Have you ever, in life, met a woman who didn't love shoes? I know haven't, but I will admit that the shoe game as changed significantly for me over the years. I used to be a heel wearing mama, but for some reason when I actually became a mama, my feet rejected the heels I once wore. It was like a switch had been flipped and my feet rejected anything with a heel on it. For years I lived in flat prison--ballerina flats, loafers and sneakers. It was so bad, I wouldn't even wear a boot with small heel nor a wedge! The pain I felt when I tried to wear heels was excruciating, but the chastising voice of my aunt, a retired nurse with a wonderful wardrobe, stayed in head. She told me to stop wearing shoes that set my feet flat on the ground because they offered no support and eventually my feet would be flat just like the shoes I was wearing. The thought of it was worrying and eventually I decided to soiree back into the heel game--only this time, I knew it would have to be different. I've made some mistakes along the way, but a couple of pairs of 4 and 5 inch heels later, I found my perfect heel height. Thankfully, I've also found some great brands that actually make remarkably stylish, lower heeled shoes.
Today I draw the line at 3 1/2 inches (give or take) because the reality for me is that I'm overweight and my knees aren't what they used to be. Therefore, wearing 4 inch heels, even with a platform, is out of the question. I do have one or two 4 inch pairs, but I digress...the good news for those of us who have sent our high heels along their way is, lower heels are trending and stylish shoes are being produced with lower heels. This means we have an opportunity of a lifetime to purchase timeless, classy and comfortable shoes. Keep scrolling to see my picks from the web. Until next time...head up, shoulders back and be the example. Ciao!
From my personal collection are these suede fringe sandals by Sole Diva from Simply Be. At 3.5 inches, they are reasonably comfortable, but I caught them on sale for $29.49 so I thought I'd give them a chance. BUYER BEWARE! These shoes run big as they come standard in wide widths (E and EEE).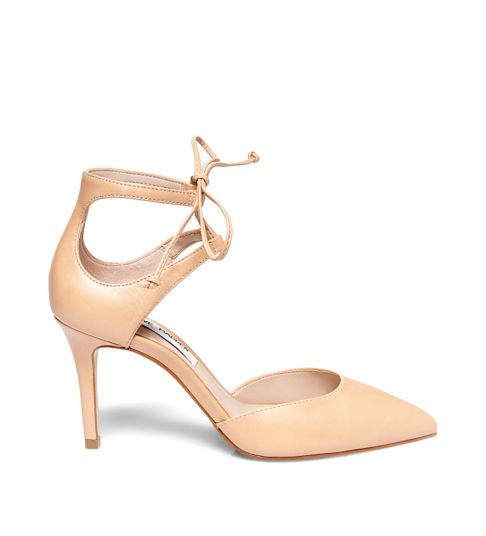 Currently, I'm obsessing over nude shoes and this one is at the top of my list! At 3.25 inches the Samba by Steve Madden has a classy edge with the cut out on the ankle and is on clearance for $49.99. Samba also comes in black.
What's not to love about the Baines Strappy Pump from Saks Off Fifth? It's in the beautiful trending color for A/W 17, aubergine (aka wine, burgundy, maroon--same color, different shades), and the straps set this shoe apart from the rest. At 3.25 inches, this shoe makes it easy to step stylishly.
A departure from the average shoe, this Faux Suede Cutout Sandal (which personally, I would've named Caged Peep Toe Bootie) from Forever 21 for $34.90 is uber stylish! The block heel adds an extra level of stability for walking, which at 3.375 inches should be a breeze.

Style Idea: Pair these shoes with a sheath dress to give it a less uniform look or with leggings and a duster vest for a trendy look.
Booties are the official fall staple shoe. The Serenity Peep Toe Bootie by Marc Fisher is a simple stunner with a 3.35 inch heel. I can personally attest to the comfort of a Marc Fisher shoe. Hands down this is the most comfortable brand of heels I've ever worn. This bootie comes in 5 colors and 2 different black finishes for $99.99.
I realize summer is almost over, but this is the best time to snag a deal. At 3.25 inches, the Melsy by Vince Camuto is currently on clearance for $44.99 on hsn.com! This is truly a delightful and ladylike shoe. The Melsy is a suede heeled sandal, but the tassels give it life and so do the 4 gorgeous colors she comes in! Melsy is going in my cart NOW!